History of Miyazaki Mango
Mango cultivation in Miyazaki dates back nearly 30 years. In 1984, Shoichi Tate, who was instructing farmers to grow fruits as the chief of fruit trees in JA Saito, was impressed by the mangoes he met during his visit to Okinawa and brought them to Miyazaki.
Although we ordered saplings and recruited growers, few farmers worked on unknown crops, with only two farmers initially and then only eight. What's more, everything couldn't go well from the beginning, and he was suffering from illness.
However, the eight farmers shared information on successes and failures and evolved temperature control techniques and cultivation methods.
Also Read: What is Snowball Melon & Benefits
In 1998, ripe mangoes with strict standard values ​​such as sugar content and size were launched under the now familiar "Taiyo no Tamago" brand. It became a hot topic on TV, and when it comes to ripe mangoes, the status of Miyazaki-produced mangoes has become immovable.
How to Grow Miyazaki Mango
Since it is on the tree until it is fully ripe, it has a rich sweetness and a beautiful appearance. You can enjoy the deliciousness of ripeness as soon as it arrives.
Speaking of mango, it is famous that it hangs on the net in the house, but in fact, this cultivation method was born from a coincidence.
When cultivation in Saito began, it was harvested by covering it with a paper bag and cutting it with scissors to prevent sunburn, just like pears and peaches. However, this method has the disadvantage that the actual color cannot be seen well and it is difficult to understand the ripeness.
In addition, mangoes were not known to fall naturally when ripe, so the fruits could fall to the ground and be ruined.
However, when I eat the fallen fruits, they are all delicious.
"If we can harvest the ripe ones intact". The net used to sell chestnuts came to the mind of Mr. Tate of JA Saito. When I put this on, I received the fruit drop.
After that, the "Saito method", which stabilized the quality by improving the net so that the surface of the fruit did not have a mesh and waiting for the natural fruit to fall, spread to outside the prefecture.
This harvesting method has become the Miyazaki Prefecture ripe mango product brand certification standard, and it is clearly stated that "fruits that have been ripe on the tree until they fall naturally and have particularly excellent taste and appearance".
Miyazaki Mango Nutritional Components and Effects
Ripe mango is not only delicious but also contains a lot of nutrients that are good for beauty and health.
100g of the edible portion of mango contains 170mg of potassium, 610mcg of β-carotene, 20mg of vitamin C, 1.8mg of vitamin E, 15mg of calcium, 12mg of phosphorus, 12mg of magnesium, 1.3g of dietary fiber, 84mcg of folic acid, and other vitamins B6, B2 and B1. Includes.
The calories you care about are 64 kcal, and the cholesterol is a surprising 0 mg.
It is rich in folic acid, a type of vitamin that is important for people with anemia and pregnant women, including β-carotene (provitamin A), which reduces active oxygen and prevents aging.
It also contains a relatively large amount of potassium, which promotes the excretion of salt (sodium), and is effective in preventing hypertension, arteriosclerosis, cerebral infarction, and myocardial infarction.
Miyazaki Mango Benefits May Boost Immunity
Mango is a good source of immune-boosting nutrients.
One cup (165 grams) of mango provides 10% of your daily vitamin A needs.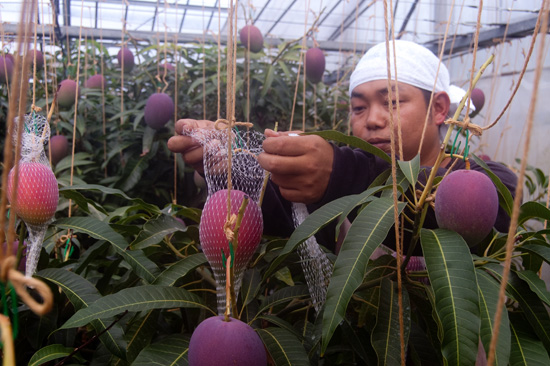 Nutrients Contained in Mango
Sweet and tasty mango is also known as a highly nutritious fruit.
Among them, β-carotene, vitamin C, vitamin E, and folic acid, which are converted into vitamin A in the body, stand out. When immature, there is a lot of vitamin C, and when it is ripe, the amount of β-carotene increases.
In addition, it contains various nutrients such as vitamin B1, vitamin B2, potassium, calcium, and phosphorus, and it is a fruit that can be ingested not only raw but also as a dried fruit.
Expected Effects
Among the nutrients that mango has, we will introduce the effects of β-carotene, vitamin C, vitamin E, and folic acid on the body.
β carotene
Beta-carotene, which is converted to vitamin A in the body, is also called provitamin A. By changing to vitamin A, it suppresses active oxygen and has the function of keeping cells in the skin and mucous membranes normal. It also has the function of maintaining eyesight and boosting immunity, and is said to have a cancer-preventing effect.
Vitamin C
Vitamin C is a water-soluble vitamin that is familiar to many nutrients. Vitamin C is an essential nutrient for making collagen that connects cells.
It has an antioxidative effect and an effect of increasing iron absorption, and is expected to have a preventive effect on cancer and arteriosclerosis. If you do not have enough, you may catch a cold or get scurvy or other illness.
Vitamin C is a nutrient that is sensitive to heat, although it is basically taken in food because humans cannot synthesize vitamin C in the body. Mango, which allows you to take vitamin C without heating, is a good fruit for taking vitamin C.
Vitamin E
Vitamin E has a strong antioxidant effect. It prevents the oxidation and aging of mucosal cells, helps prevent lifestyle-related diseases such as arteriosclerosis, and is expected to promote blood circulation and beautify the skin.
Folic Acid
Folic acid is a type of water-soluble vitamin found in spinach leaves. It enhances the function of cells in the body and has the function of forming red blood cells.
It is an essential nutrient for fetal growth, and it is said that a good intake of folic acid in the early stages of pregnancy reduces the risk of dysgenesis. In recent years, it is expected to be effective in reducing the risk of cardiovascular disease.
Science and Technology Agency Resources Council edited by five Revised Standard Tables of Food Composition in Japan.
Miyazaki Mango Seed Position
Ripe mangoes have thin seeds in the vertical direction. Please refer to the photo for the location of the seeds.
Tips for Eating Deliciously
Mango is easily damaged, so it is recommended to consume it as soon as possible after cutting it. If you store it in the refrigerator, wrap it tightly and have it within a day or two. You can enjoy it even more deliciously by cooling it in the refrigerator before eating.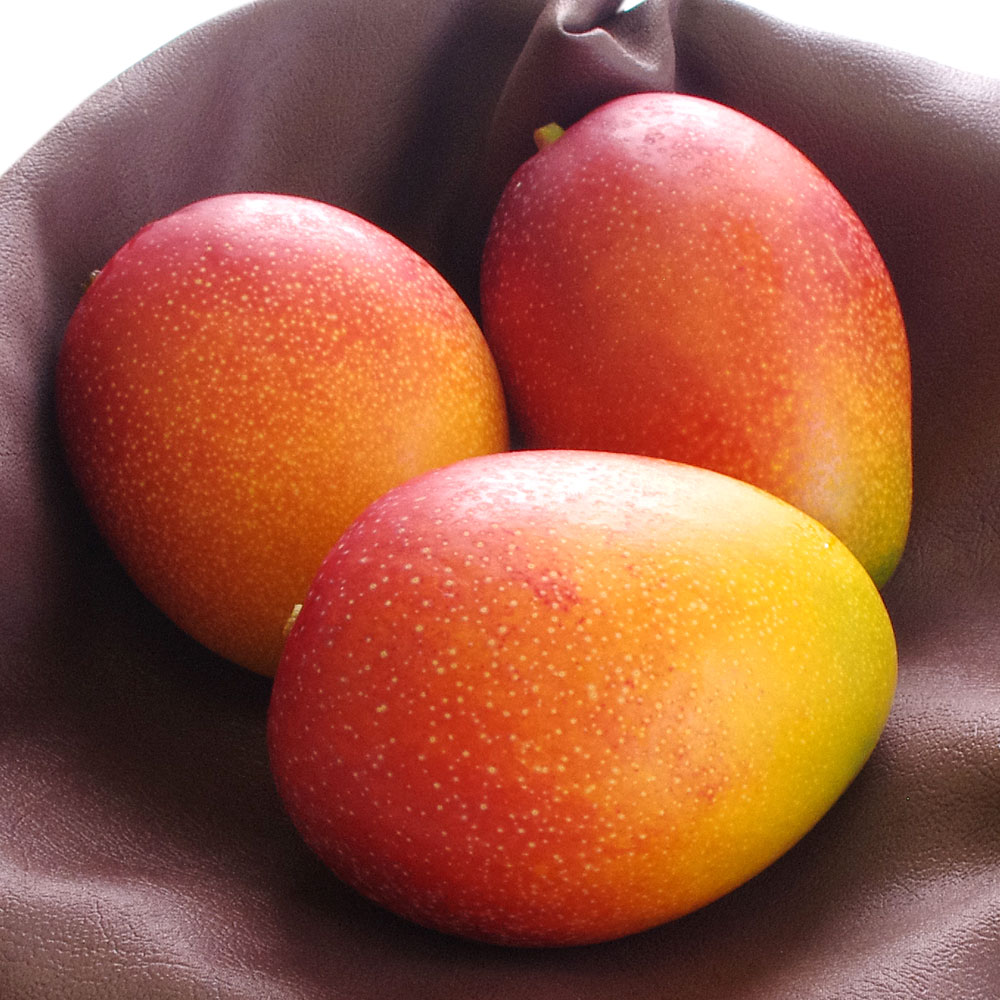 When Miyazaki Sell?
Miyazaki ripe mangoes are harvested after they are fully ripe on the tree.
Therefore, when it arrives at the customer's hand, it is already ripe and ready to eat, so please consume it as soon as possible (no need for ripening).
Health Benefits Of Mango
Mango in season is not only delicious but also strongly for making beautiful skin and maintaining good health!
In the summer, Okinawa, Miyazaki, Kagoshima, Kumamoto, etc. reach their peak, and mangoes, which are delicious not only as they are, but also as puddings, jellies, and juices, are very popular summer fruits.
Such mango is not only sweet and amazing but also contains abundant nutrients that can be expected to have a beautiful skin effect and whitening for men & women.
Furthermore, in terms of health, it also has the effect of being able to ingest various nutrients!
Now is the season! Why don't you try to get in shape while eating delicious fruits?
Also Read: What kind of Yogurt is good for face masks?
Health Benefits
Mango contains β-carotene, vitamin C, potassium, folic acid, and other ingredients that are expected to be effective in preventing lifestyle-related diseases.
● Blood smoothing Effect
Potassium makes blood smooth and can be expected to prevent arteriosclerosis and blood clots.
● Swelling and Summer
heat effect Summer heat has various factors other than autonomic imbalance due to temperature difference, but potassium is lost by sweating a lot (hypokalemia state), and sweating due to heat causes the body. Is also a major factor in the lack of water.
Mango is a fruit suitable for hydration and potassium supplementation, and it also contains glucose, which has a fast energy transition, so it is ideal for preventing heat fatigue.

In addition to maintaining the balance with sodium in the body, potassium is said to be effective for swelling because it promotes the excretion of excess sodium and water.
● Prevention of Anemia
Folic acid (vitamin B9) contained in mango is also called "hematopoietic vitamin" and has the effect of making red blood cells. Therefore, it is recommended that people with anemia and pregnant women take not only iron but also folic acid, which is necessary for making blood.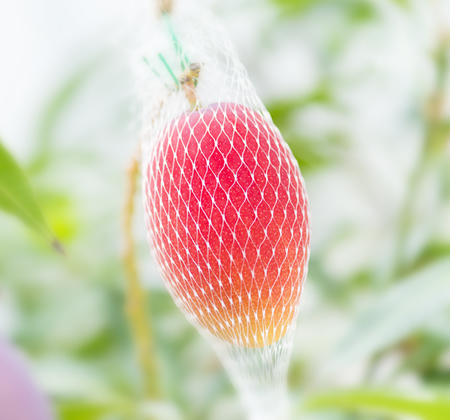 ● Immunity
enhancement Mango, which contains vitamin C and β-carotene, helps strengthen immunity.
Beauty Effect of Mango
Mango contains nutrients such as β-carotene and vitamin C. What can be mentioned as a beauty effect…
● Wrinkles, Tarmi, Stains
Polyphenols and vitamins A, C, and E, which are expected to have synergistic effects of antioxidants, can be ingested, so mango is popular as a measure against skin aging and UV rays. .. It's a perfect fruit for the coming season when you're worried about stains and dullness due to sunburn.
● Skin Troubles Such as Acne
Vitamin A contained in mango has a mucous membrane regeneration effect and is a strong ally for skin trouble care. In addition, it can be expected to have the effect of preventing rough skin.
Delicious and Good for Your Health, Various Ways to Eat.
It is delicious to cut a well-chilled mango and eat it as it is, but it is also recommended to eat it with other things.
Why don't you enjoy how to eat delicious and nutritious food efficiently?
Mango is said to have a relaxing effect when salted and smelled.
The scent component is contained in the cells of mango and can be easily absorbed by salting.
For these effects, it is a good idea to sprinkle a small amount of salt after dinner and just before eating to get a good night's sleep.
It's very important to get a good night's sleep and get rid of summer fatigue.
relaxing effect when salted and smelled.
The scent component is contained in the cells of mango and can be easily absorbed by salting.
For these effects, it is a good idea to sprinkle a small amount of salt after dinner and just before eating to get a good night's sleep.
It's very important to get a good night's sleep and get rid of summer fatigue.
● Mango shake
Is also a delicious way to eat, which is easy to make using frozen mango.
Mix frozen mango, milk, a small amount of lemon juice, and ice in a blender for a delicious shake in no time.
It is said that when frozen, the content of vitamins and antioxidants is higher than when eaten raw, so if you buy a lot, you should freeze it a little.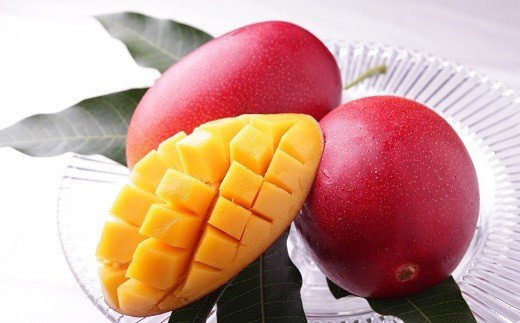 ● Use Dry Mango
soak small pieces of dry mango (several pieces) in plain yogurt overnight (refrigerate required).
The nutritional value of dry mango is almost the same as that of raw mango, and because the water content is reduced, the nutrition per 100 grams is more concentrated in dry mango, and yogurt components such as lactic acid bacteria and vitamin B can be ingested at the same time. ..
In the morning, the mango swells by absorbing water and the exquisite yogurt with increased sweetness.
Precautions When Eating Mango
Since it contains a substance called "mango" that causes contact dermatitis, allergic symptoms such as redness and itching around the lips may occur. This symptom may develop days after eating rather than immediately.
It's a fruit that you'll miss in the summer, but keep in mind that it's also a fruit that is prone to allergies.
If you are worried, please use a spoon etc., and be careful not to touch the skin directly.
Also Read: 38 Amazing Benefits of Papaya for Skin, Hair, and Health
How to Cut Ripe Miyazaki Mango or The Sun Egg
1) Remove the sticker before cutting.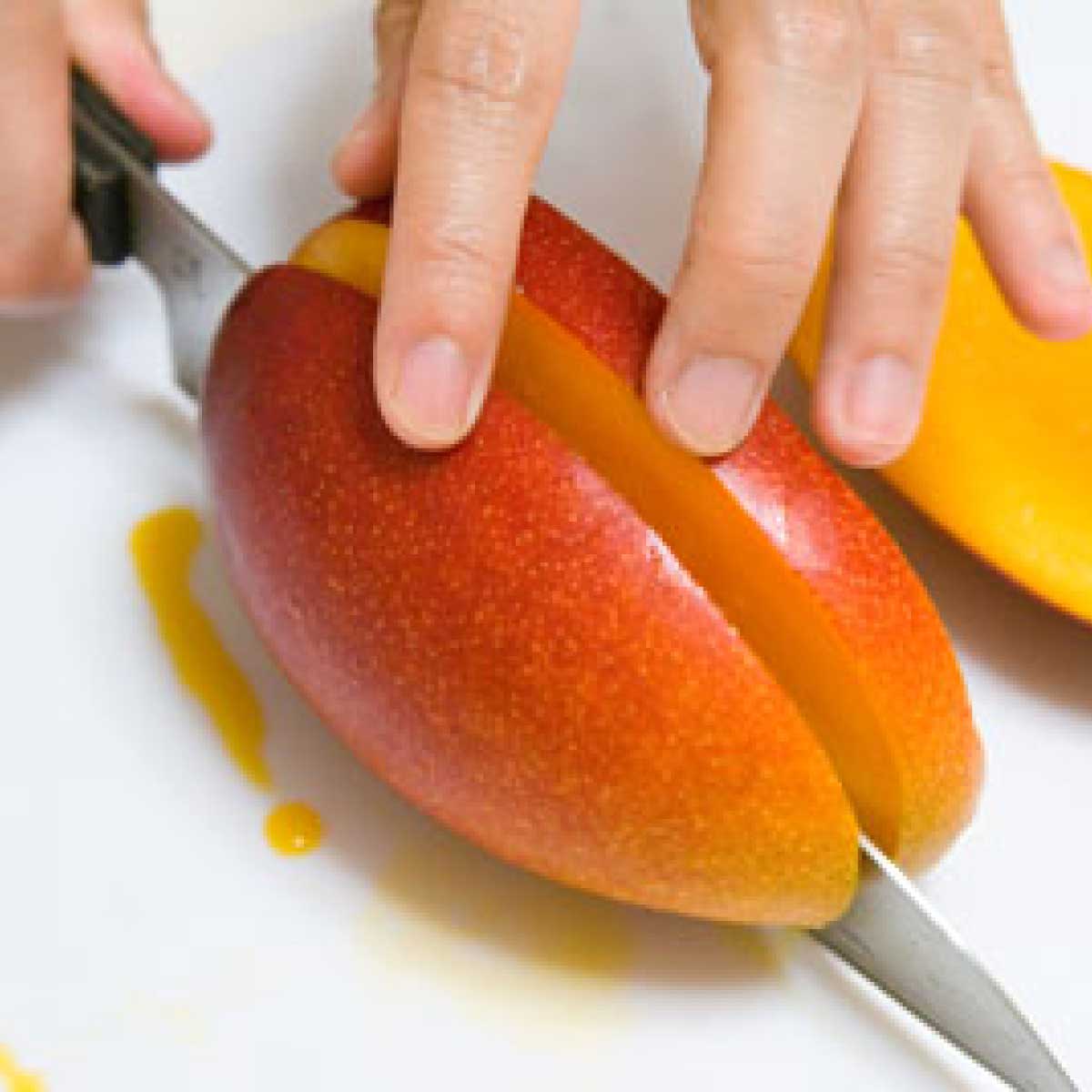 2) Make a cut so that it looks like a dice. I try not to cut the skin, but since the skin is thick except for it, it is okay to make a firm cut.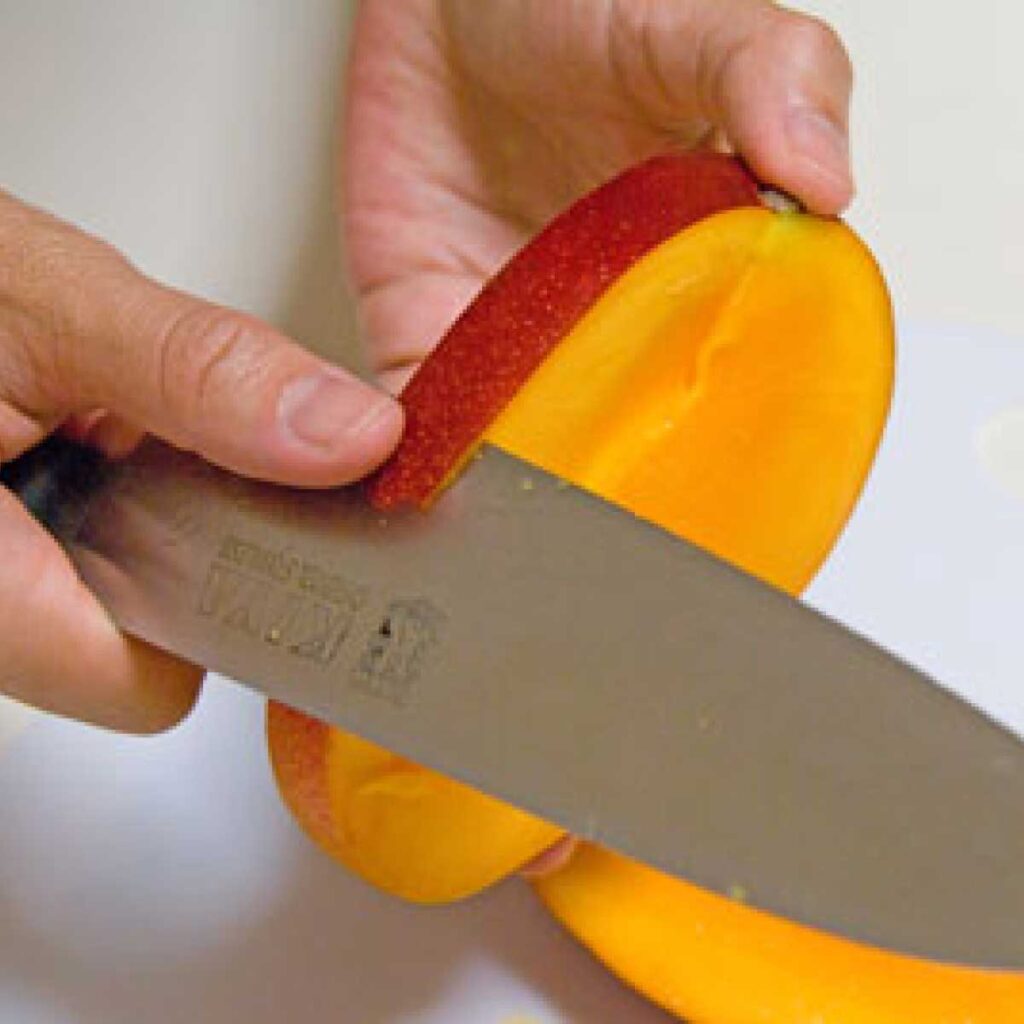 3) If you turn it over to push out the skin, the flesh will pop out.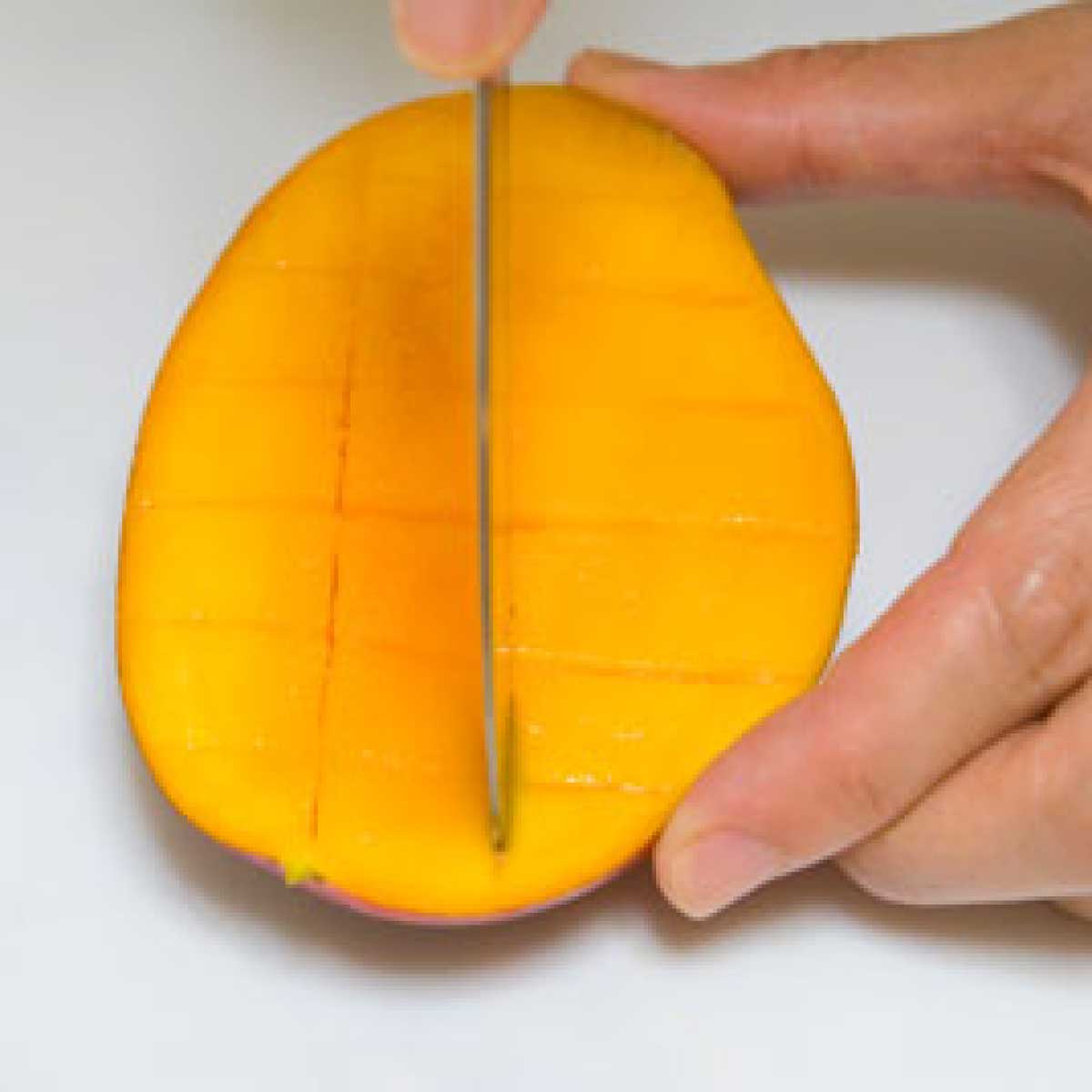 4) Serve on a plate and it's done! A spoon that can firmly scrape off the flesh on the skin is recommended. Come on, have it!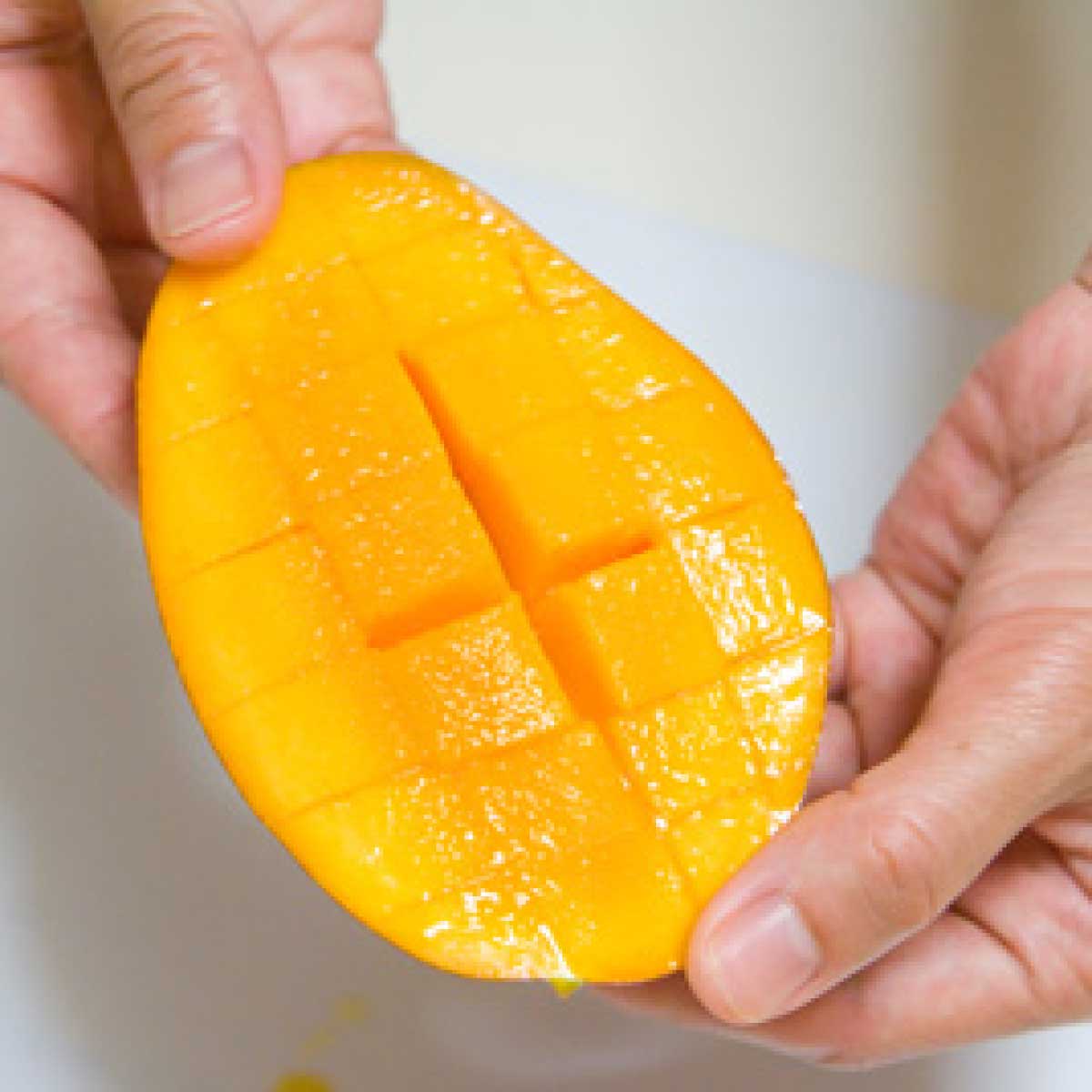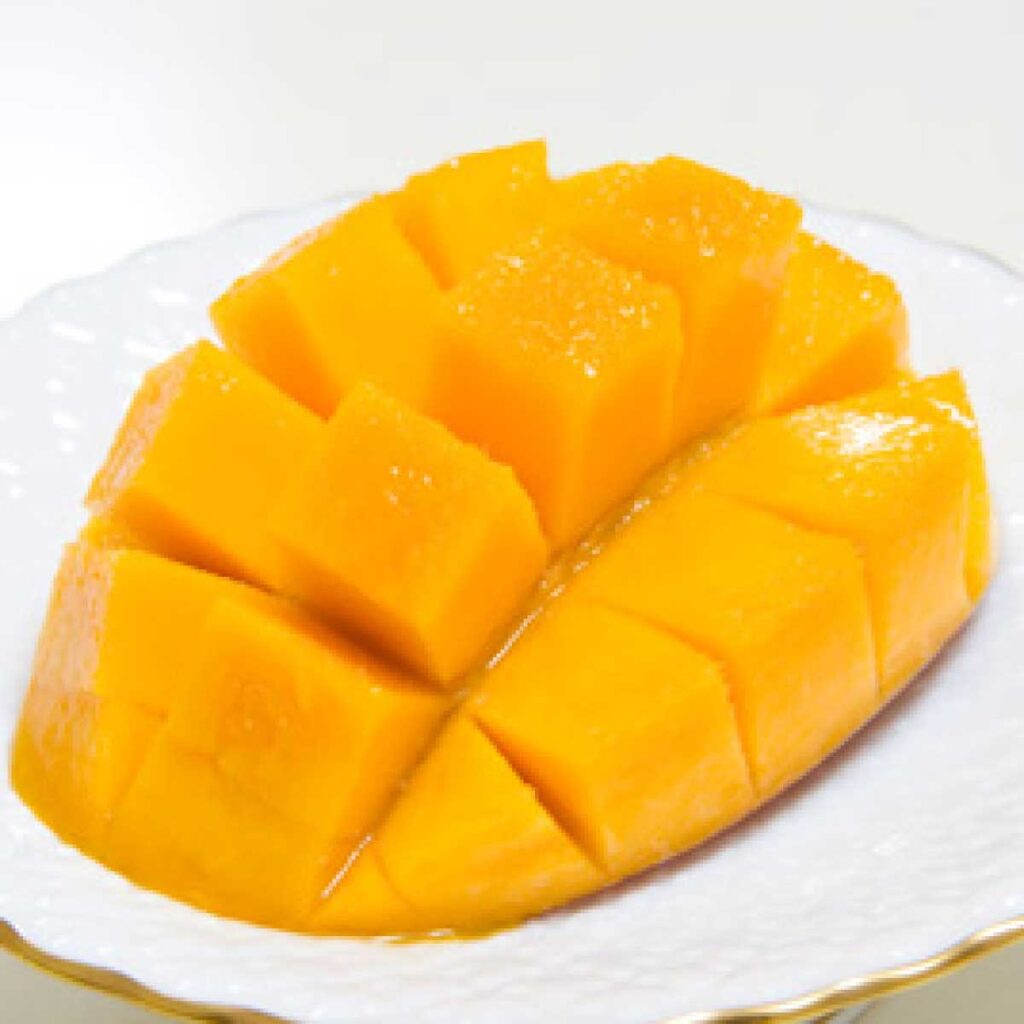 Note) Peel the middle part with seeds and scrape off the flesh. It's okay to wear the whole thing with the privilege of the peeled person.
When is the Miyazaki Mango Season?
Mango is cultivated in Japan and imported from overseas, so you can get it all year round. There are many types, but the one that is produced in large quantities in Miyazaki and Okinawa prefectures is the Irwin mango. It is called "Apple Mango" because of its red skin like an apple.
In Miyazaki Prefecture, shipments increase from April, with a peak in June. Since the peak of Okinawa is from July, the distribution volume in July is the highest.
When did Miyazaki Mango Prevalence?
A ripe mango "Egg of the Sun" with a beautiful red color like an apple. In 2007, the then governor of Miyazaki Prefecture, Mr. Higashikokuhara, made efforts to promote it, and it became known nationwide.
It is a prefectural unified standard set by Miyazaki Keizai Ren.
Why Miyazaki Mango Expensive?
Miyazaki Mango is very rare to see in the super market. In India, M.P.'s couple are cultivating miyazaki mango. By its beautiful appearance, color and lack of cultivation miyazaki mango is the world most expensive mango in the world.
Miyazaki Mango Price in India?
Miyazaki Mango is considered to be a very expensive fruit and one of the most premium ones sold in Japan. Miyazaki mango price per Kg in India reportedly starts from Rs. 8,600/- and sold up to Rs. 2.7 lakh per kilogram in the international market as previous year, according to Japanese media reports.
Miyazaki Mango Price in Japan?
Miyazaki Mango is the most popular fruit in Japan, because of its red color it is also called Apple Mango , in japan single piece of Miyazaki mango price starts from 5000 INR.
Please give a review if you like this article

10

User Ratings (

6

Votes)

8.2