Ranya Dally Workout, Diet, Bio, Age, Dating, Net Worth, & Career
Introduction About Ranya Dally Bio
Ranya Dally is a well-known fitness model, bodybuilder, and social media influencer. She has taken the fitness industry by storm with a fantastic Hulk physique and stunning looks. But how does Ranya Dally maintain her figure?
This article will discuss Ranya Dally's workout routine and diet, fitness journey, her social life, and every aspect at play in between that has helped her to achieve fitness and a healthy body.
Ranya Dally's Work Profile
Ranya Dally is a well-known female fitness model who hails from San Diego, California, and currently lives in Las Vegas, Nevada. Dally was born on 1st October 1997 and As of 2023, Ranya Dally Age is 26 years old.
She is currently in a loving and committed relationship with her boyfriend and life partner, Anthony Roberto. They share a mutual passion for fitness, and she also takes pride in being a devoted dog mom to an adorable cream-whitish Standard Poodle.
Ranya completed a Hospitality Management program at the University of Nevada, Las Vegas, and successfully graduated from Hospitality College with an impressive GPA of 3.64.
She possesses an athletic background and devoted six years to dancing, mastering various styles such as ballet, hip-hop, jazz, and contemporary dance. However, her passion for fitness, bodybuilding, and weightlifting eventually captivated her heart and became her newfound love.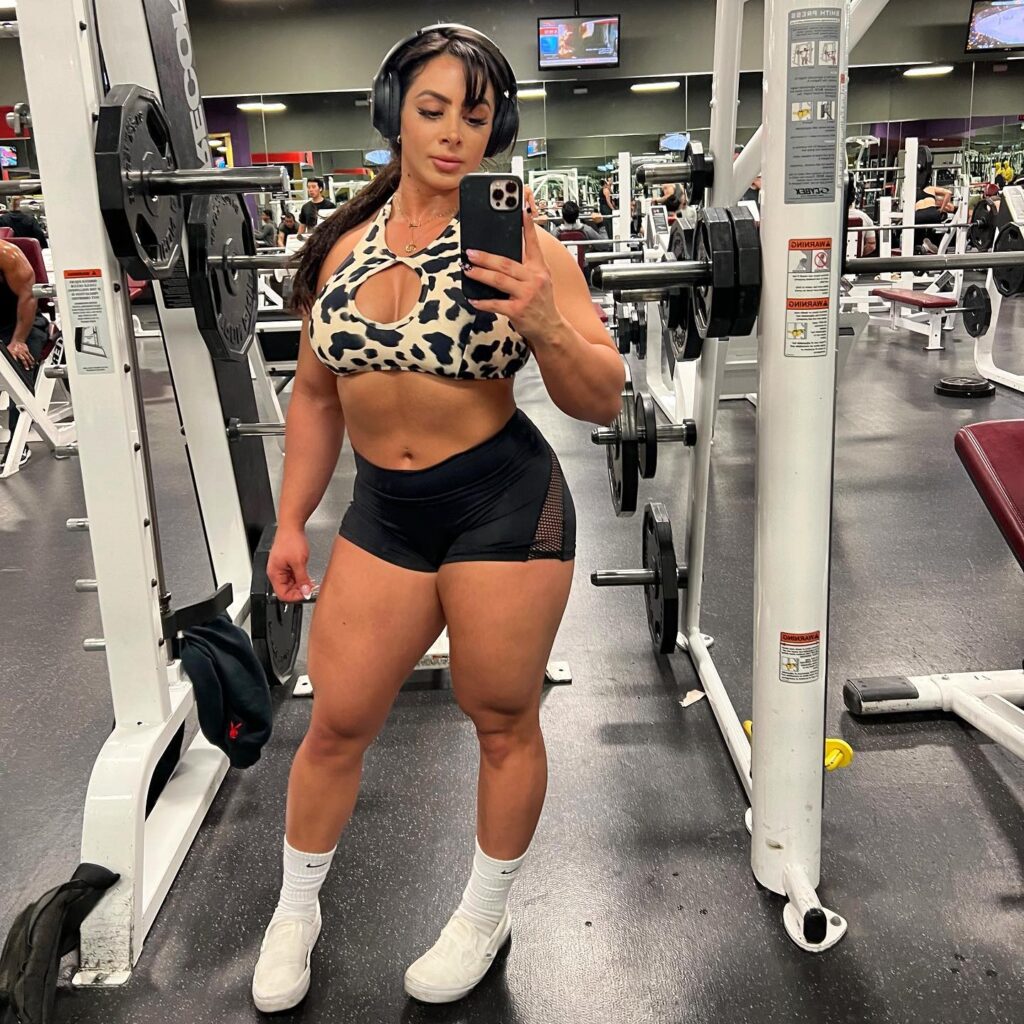 Ranya has since competed in several competitions for bodybuilding and powerlifting, which she fell in love with after first hitting the gym.
Her professional journey commenced during her educational years with an internship at Station Casinos.
Her work journey started with a summer job as a Vdara Hotel & Spa Las Vegas cocktail server and a Resorts World Las Vegas banquet server.
She is an influencer who promotes brands on her Instagram page for brands majoring in sports and fitness clothing. Her net worth remains unknown as she has kept her income private.
Ranya Dally's Social Media Popularity
In recent years, Ranya's social media presence has experienced a meteoric rise, amassing an impressive following of over 164K on Instagram. Ranya Dally's Instagram feed showcases captivating images of her sculpted physique, workout routines, and valuable fitness advice. Furthermore, Ranya collaborates with various brands and Instagram pages, participating in major brand photoshoots. Additionally, she maintains an active presence on YouTube through her dedicated channel.
Ranya Dally's Net-Worth
Ranya is a rising Instagram star and fitness model whose approximate net worth is $500,000. Ranya's net worth has increased due to their success in the fitness industry. Ranya Dally is currently one of the most in-demand fitness influencers and models, and her partnerships with many brands of protein and supplements companies.
Consistency in the Fitness Journey
Embarking on a fitness journey demands discipline, endurance, perseverance, and consistency. These fundamental elements serve as the building blocks for pushing oneself beyond limits and achieving remarkable progress.
Ranya Dally's fitness journey commenced during her college years when she came to the realization that she wouldn't be a dancer for the entirety of her life. Motivated by this realization, she made the decision to hit the gym and focus on building her strength through weightlifting.
Three years into her fitness journey, she has ventured into bodybuilding and powerlifting, which contribute to her end goal of building a powerhouse body.
Ranya Dally First Figure Competition
Ranya dally has participated in figure competition for bodybulding which she transform amazing physique and body.
Ranya Dally Workout Routine and Exercises
workout routine and diet plan are designed to help her maintain an impressive body. she is one of the most beloved fitness models. Ranya Dally's exercises are focused on strength training and heavy weight bodybuilding, while the diet plan is center around lean protein, complex carbohydrates, and healthy fats.
Here we are suggesting you the best Workout Routine and Diet Plan which helps everyone to achieve their fitness goal.
Ranya Dally Workout Routine:
Before starting any 
workout
, Ranya recommends a 10-15 minute warm-up session.
DAY 1: MONDAY- Back/Biceps
Chin Ups (Wide Grip) 4×12
Chin Ups (Normal Grip) 4×10
Row Machine 4×12
T-Bar Rows 4×12
Dumbbell Curls 6×12
EZ Bar Curls 4×12
Straight Bar Cable Curls 4×12
DAY 2: TUESDAY- Hamstrings/Calves
Lying Leg Curls 4×12
Seated Leg Curls 4×12
Deadlifts 4×10-15
Seated Calf Raises 8×20
Standing Calf Raises (Smith Machine) 6×20
DAY 3: WEDNESDAY- Triceps/Shoulders
Standing Dumbbell Tricep Extensions 6×12
Skull Crushers EZ Bar 4 X 12
Rope Overhead Cable Extensions 4×12
Military Press 4×10
Dumbbell Shoulder Press 3×10
Upright Rows with EZ Bar 4×12
Side Lateral Raises 4×10
DAY 4: THURSDAY- Rest Your Body
DAY 5: FRIDAY- Legs
Lunges 4×12
Good Mornings 6×20
Leg Press (Single Leg) 4×15 (Each Leg)
Squats 4×12
DAY 6: SATURDAY- Abs
Hanging Knee Raises 4×12
Crunches 4×20
Crunch Machine 4×12
Crunches On Ball 4×20
DAY 6: SUNDAY- OFF
Ranya Dally Diet Plan And Nutrition
Ranya Dally's diet plan is built upon the foundation of consuming wholesome, nutrient-dense foods that are rich in protein. She consciously avoids alcohol, processed meals, and sweets, opting instead for lean sources of protein, complex carbohydrates, and healthy fats.
Have a look at what Ranya Dally takes diet each day:
Ranya Dally Diet Plan
Meal 1:
Breakfast
6 egg whites, strawberries, oatmeal, and almonds
Meal 2:
Lunch
Grilled chicken breast, roasted potatoes, steamed broccoli with olive oil
Meal 3:
Snacks
Pork chops and salad
Meal 4:
Dinner
Grilled salmon, Brown rice, steamed asparagus
Meal 5:
Before Bed
Casein Protein drink
Supplements
You can get the following supplements to help fuel her gains:
Multivitamin
Whey Protein
Conclusion