Did you know that fish oil can be a great ally for your brain health? In addition to preventing degenerative diseases, it also helps us improve stress or depression. Fish oil is very popular due to its high content of omega-3 fatty acids. . These have benefits for the brain, and heart, as well as general health. In this article, we tell you the benefits of fish oil and why you should consume omega-3 to feel healthier and stronger.
If you want to know what fish oil is, what it is used for, and what its benefits are, keep reading this article and you will get complete detailed information. Keep in mind that to experience positive effects through the consumption of this product it is essential that you include it in the context of a varied and balanced diet.
Read also: List of Rich Foods of Omega-3 Fatty Acids
What is fish oil Omega-3 used for and benefits of fish oil?
The fish oil dietary supplement is extracted from the fat of oily fish such as tuna, herring, mackerel, sardines, salmon, or trout. The consumption of this type of fish is considered essential for our body due to its contribution of omega-3 fatty acids and eicosapentaenoic acid (EPA), which are essential for cardiovascular health. Omega-3 also has anti-inflammatory properties that benefit those suffering from diseases related to arteriosclerosis and rheumatism. It also provides docosahexaenoic acid (DHA), to which the ability to reduce triglyceride levels is attributed.
Related: Effective Diet to Weight Loss Faster
The combination of these acids is supposed to have the ability to strengthen the veins and arteries, in addition to helping to keep the blood clot-free, which is why they are considered a form of prevention of thrombosis, embolisms, and strokes, as well as a treatment to reduce blood pressure. However, it has more benefits and is used to improve more aspects of our health, as we will see below.
Benefits of Fish Oil: Omega-3 properties
Fish oil is attributed to surprising properties, especially if it is consumed directly, including the consumption of oily fish in our diet at least twice a week. The properties of this food supplement are given thanks to its composition. These are the main components of fish oil : Benefits of fish oil
High content in omega 3 and omega 6.
Eicosapentaenoic acid (EPA).
Docosahexaenoic acid (DHA).
Vitamins A, B, C, E, and D.
In addition, in the case of dietary supplements in capsules, the vitamin index is usually increased and, in some cases, some minerals are added, such as zinc, iron and/or magnesium.
Thus, thanks to this nutritional composition, these are the main properties of fish oil :
cardioprotective
anti-inflammatory
Hypotensive
Anticoagulant
lipid-lowering
skin hydration
healing
Stimulates the defenses
Health Benefits of Fish Oil Supplement Omega-3
If you taking omega-3 capsules in the right doses you can enjoy the following benefits of fish oil:
1. Fight seasonal allergies
Thanks to its anti-inflammatory properties, it helps reduce swelling of the sinuses (caused by histamine).
It also has the ability to strengthen the immune system and, therefore, deal with the pathogens that cause allergies with seasonal changes. This is evidenced by a study published in the American Journal of Respiratory and Critical Care Medicine. This effect is due to the content of unsaturated fatty acids.
2. Take care of cardiovascular health
Fish fatty acids reduce lipid levels and are a great ally against bad cholesterol (LDL), according to Andrés Carbajal, from the Department of Nutrition at the Complutense University of Madrid.
They help reduce the risk of cardiovascular disease, according to a study published in the International Journal of Molecular Sciences , since regulate heart rate and unclog and reduce inflammation in the arteries.
3. Improve the appearance of the skin
Fish oil has the ability to block the release of enzymes induced by the sun's rays and serves to maintain skin function in the best conditions.
To enjoy this benefit it is advisable to apply it on the skin. It is also recommended for those people who have rashes, redness, and itching.
4. Promote brain health
Some neurodegenerative diseases, such as Alzheimer's, dementia or Parkinson's disease affect millions of people around the world. Periodic intake of fish oil could be a factor that helps balance the functions of dopamine and serotonin, hormones responsible for regulating the brain.
According to research published in Nutrients, omega 3 fatty acids protect against the development of neurodegenerative pathologies.
5. Treat eye problems
In the case of suffering from cataracts or "dry eye," we can use fish oil to help reverse the situation or treat it in the best way.
If we eat it every day we can contribute to improving eye health thanks to the omega-3 fatty acids.
6. Support Avoid strokes
When a blood vessel in the brain ruptures or becomes blocked, what is known as a "stroke" occurs.
Another benefit of Fish oil could reduce certain risk factors related to this problem since it helps improve the health of veins and arteries and promotes blood circulation. It is recommended in cases of arteriosclerosis and high blood pressure.
7. Relieve rheumatoid arthritis
The fatty acids contained in fish oil are believed to have an anti-inflammatory effect on the body. This property is very useful for those who suffer from arthritis or osteoarthritis since it reduces joint stiffness so common in the morning.
Likewise, it also calms the typical pain when wanting to take an object or carry out a daily activity.
8. Have stronger bones
Osteoporosis is a growing problem in the world's adult population. It is characterized by weak bones and is more likely to break or crack with any blow, sudden movement, or fall.
It is caused by a calcium deficiency and includes loss of bone mass, especially in certain areas of the body, such as the femur, hip, and shoulders.
Consuming fish oil serves to reverse the causes that cause this condition. Animal studies from the Department of Biomedicine of the University of Parma, Italy, seem to prove the benefit of some fats, such as fish oil, on bones.
9. Helps to Prevent Cancer
Fish oil could help prevent different types of cancer, thanks to the action of polyunsaturated fatty acids that are believed to prevent the development of malignant cells. It also serves to enhance the elimination of toxins from the liver and kidney.
10. Prevent depression and anxiety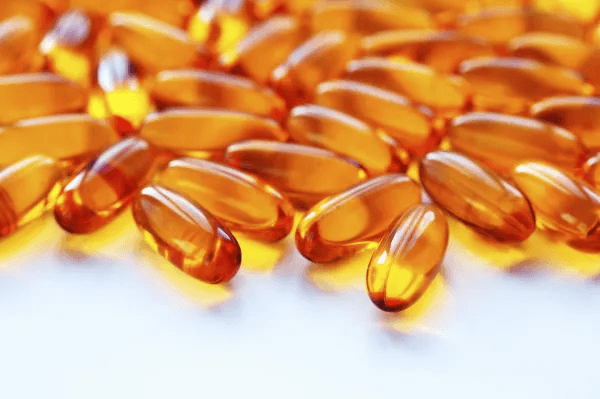 Since fish oil is beneficial for reducing or improving certain mental illnesses, it can also be used in the treatment of depressed or anxious people.
Both conditions have been increasing in recent times due to the pace of life we ​​lead and can affect our behavior and relationships.
A good dose of Omega 3 fatty acids improves the state of the brain and is an excellent ally in chronic stress, insomnia, or nervousness.
Include fish oil in routines
As you have seen, fish oil has several health benefits. However, it is a product with a high caloric density, so it must be consumed in moderation. One of the best options may be its intake through dietary supplements.
How to Take Fish Oil Omega 3 Capsules
The most effective way to take fish oil is by incorporating oily fish into our diet, at least twice a week. Another way to be able to consume fish oil is through dietary supplements that can be obtained at any pharmacy.
Fish oil capsules can be found with different concentration levels. There are also formulations made from different types of fish and with other added ingredients, such as vitamin complexes.
You can buy fish oil in a dark or brown glass bottle or jar since it spoils when exposed to light for a long time. In this case, generally, you take one tablespoon a day, up to a maximum of 3, either directly or mixed with other foods.
Note: The contents of this publication are written for informational purposes only. At no time can they serve to facilitate or replace diagnoses, treatments or recommendations from a professional. Consult your trusted specialist in case of any doubt and seek their approval before starting any procedure.
Benefits of Fish Oil Omega-3 Capsules
Benefits of Fish Oil Omega-3 Capsules
The benefits of Fish oil can be attributed to its omega-3 fatty acids content which reduces the risk of heart disease and helps in the human body. Here are some advantages of fish oil intake
User Ratings (

2

Votes)

9.7